TV Host and Style Editor Shae Wilbur featured Hanging Secrets in her "April Favorites" YouTube video!
(Skip to 3:18 to hear her opinion on HS)
"I love it, very good quality and it has a lot of room for big cups. It's perfect. I think I'm going to order a second one for my sports bra, those are expensive too and I don't want them to loose their shape."
Theresa R.
"Hanging Secrets is Awesome! We fit about 4-5 secrets into every pocket, for me I'm a freak organizer I like everything in its place and for my daughter being just 13 years old Well let's just say we are black & white on this topic lol! But today not only did we have fun organizing each of our own little secrets together we both loved it! Plus spent Mother Daughter quality time with a few laughs throughout with how nice and neat Marlene's Hanging Secrets looked in her closet verses the prior mixed tornado she had in her drawer hahaha! Heck she even color coordinated each row hahaha! So double thumbs up... From both of us on Hanging Secrets👏🏻😊"
Sindy B.
"What I love about Hanging Secrets is that it is organized, easy to access, and it keeps all my bras and panties in one sweet place. I can now store my lingerie in a way never previously possible! Every woman who cares about her lingerie shall have one soon. Great job Frances!"
Deborah S.
"I've been organizing my dresser for years and haven't found a true solution to organize my bras without just cramming them in a corner. Until now. Hanging Secrets has been perfect for organizing my bras. Best of all, Hanging Secrets keeps them protected and looking great. I am so thankful for my Hanging Secrets, it saves me time getting dressed because it is so much easier to find what I'm looking for. It truly is a great invention and I love it! As a side note, I gave the second HS I bought to Briana. She is very curvy and her bras take up ALOT of drawer space. She was so excited to use her HS and have more drawer space for other things. When she moved she asked if she could take it with her because she had just bought about six new bras and she wanted to keep them organized and she like how she could see all the pretty patterns through the "windows" and pick out a bra without having to fumble around looking for the one she wanted. Of course I said yes! Thanks again for a great product. We are 2 very happy customers!"
"

I love my Hanging Secrets! It beautifully displays all of my bras and panties while hanging over my closet door. The product is great quality, with a chic, feminine design. It is easy to use and very spacious, the hook is very sturdy and fits perfectly over doors without a problem. I would definitely recommend one to all women, it is a great way to keep your intimates organized and protected from the wear and tear of overfilled underwear drawers."
"A terrific storage idea. Because who doesn't struggle with organizing their lingerie? If you're like me, you'll want to check out the Hanging Secrets solution. It keeps all your bras (and panties) safe in a convenient pocketed hanging system. The tough plastic exterior prevents bras from getting crushed by other clothing in your closet, too."

"
A terrific storage idea for your bras, particularly if you are like me and they take up an entire dresser drawer."
"I received my wonderful secret My bras now are in easy reach and it is fabulous. and is hanging in my closet."
Susan B 2/2015
"My hanging secrets saves me time,extends the life of my bras.. Haven't had to muy one since I bought my hanging secrets in November clears out my drawers. My cloths look better since my bras are not being crushed."
Rose C 2/2015
"I am very happy with my hanging secrets. It really has helped in keeping my bras in their shape and reduce damage. And I like the fact that it stores underwear as well, this has created more storage space in my drawers. I have had no issues with hanging secrets and no regrets."
Armida T. 2/15
"What I love the most about my hanging secrets is that It can hold the padding of my bras, bathing suits, and removable bra straps, in the back sleeve. It saves space in my drawers and keeps my bra's organized and in tact."
Marci R. 2/2015
"My before photos of where I used to keep my bras and the other photos are where my bras are kept now! As you can see, they were cramped and super tight and my molded cups were getting damaged in the drawers. Now, I've noticed a change in the cups because they aren't being pressed down and crumbled anymore.




While being kept in Hanging Secrets, there is more breathing more and it's easily organized by color and style. Living in a metropolitan area right outside of New York City, I was also very pleased with how easily it fit in the tightest of spaces. I believe that no matter the size of your closet, Hanging Secrets has a spot in any home! Now with my new place and my new closet I'm looking forward to hanging it in my walk in! This will definitely be the talk of my house warming party!"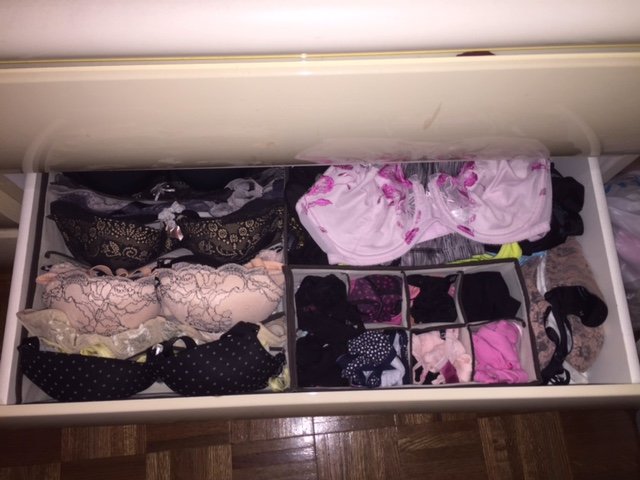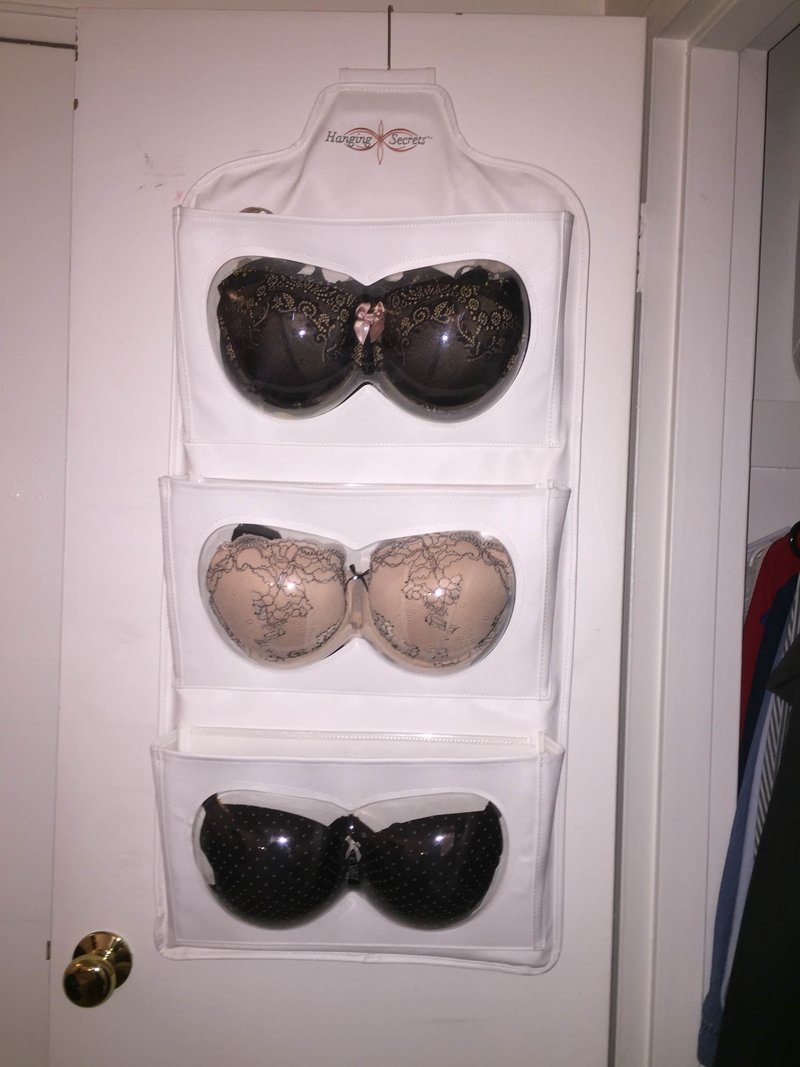 Veronica N 2/2015