Join Our
POSSI

to help fight against Breast Cancer
---
In my 20+ years of clinical practice, I have been inspired by many patients to focus on quality of life and to live a life with dignity. One of the most challenging aspects as a family doctor is when I had tell a patient he or she had cancer. The road to healing and helping family members cope with a loved one's diagnosis and treatment of cancer is one of life's most difficult journeys. I am privileged to be a part of the healing journey for all of my patients, especially those devastated by cancer. I remember Mary, mother of three children, was urged by her husband to seek medical attention after finding a painless breast lump. Mary was healthy all of her life and was shocked when the mammogram revealed a suspicious lesion which was confirmed to be breast cancer after a biopsy. Luckily, Mary's breast cancer was found at an early stage and cured. Breast cancer deaths have been slowly declining due to early detection and improved cancer treatment. Despite this, breast cancer is the leading cause of death among women aged 20 - 59. Mary's story reminds me of the importance to support organizations such as the Susan G. Komen foundation which funds salient lifesaving research for breast cancer and offers assistance and resources for breast cancer victims. "Hanging Secrets" is committed to providing proceeds from sales to support breast cancer victims. Please "Join our POSSI" to help in this important mission!
---
---
My Brighter Side
Hanging Secrets is honored to team up with My Brighter Side Boutique to support the Virginia Ann Scheunemann fund. Join Our POSSI to Fight Breast Cancer.
We are teaming up with The Brighter side Boutique that has an adjunct charity fund called the Virginia Ann Scheunemann Memorial fund. This fund started in 2003 to assist women who are low income and/or uninsured. This charity provides free products and services to women in need. The charity is an entirely volunteer based organization, and drives 100% of its funds to women who are in need
Sharing Donations Across the Border
About 2-3 times a year, The Brighter Side is visited by representatives of a charitable organization in Mexico called Grupo De Apoyo Adelante. These women take donations to cancer patients in Tijuana and Ensenada. Their work is infectious, and it reminds us that suffering from cancer crosses all geographic and economic borders.

The Brighter Side accepts donations of gently used wigs, bras, prostheses, bathing suits, hats and scarves. They loan any available donations to clients who are waiting for a custom order. They are always willing to pass donations along to women who cannot afford new retail products.
The Brighter Side Boutique is an organization for women with breast cancer, located in Southern California. This organization offers breast cancer patients hope, happiness and comfort. When women visit The Brighter Side they can expect to be in a warm, caring private environment. They show the women how to wear the bra/ prosthetic, as well as give them information on and when and where they can obtain one of their own.
"Don't Just Survive, Thrive!"
The Brighter Side has two Southern California locations:
S Cedros Ave Solana Beach CA, 92075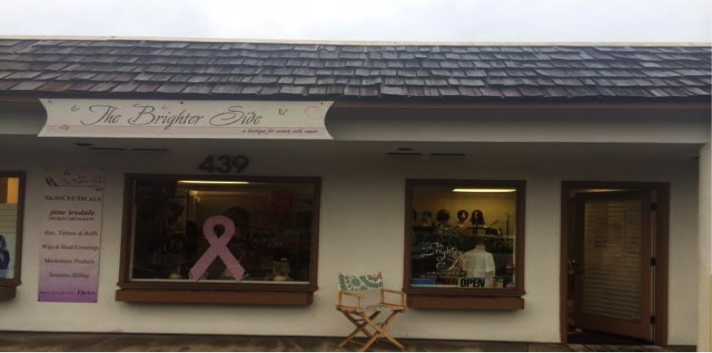 5575 Baltimore Dr La Mesa CA, 92142